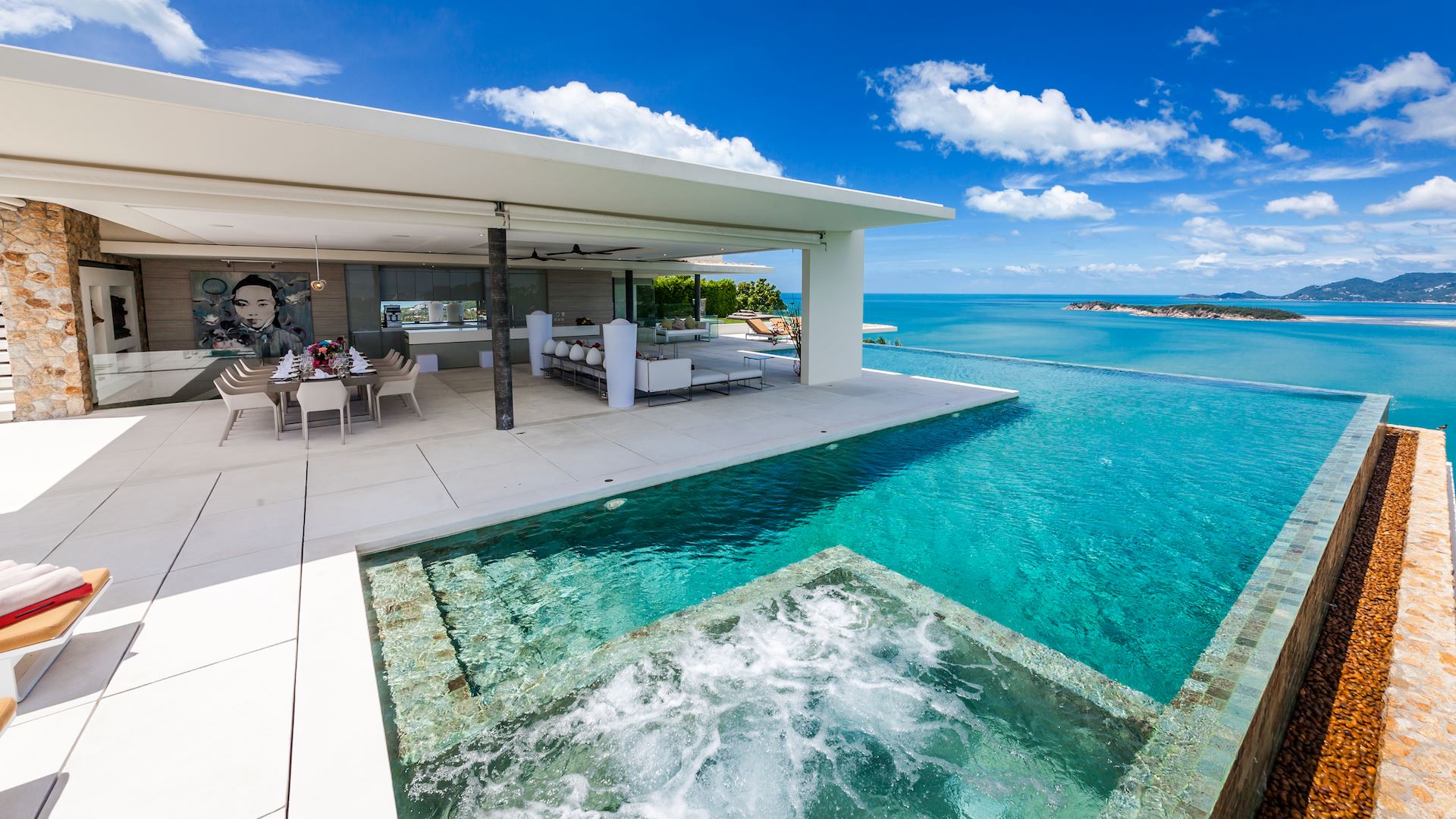 Contact
Doctor Property Team
Cherry Songkhasupha
Chris Pleier
Contact us by phone +66 6 1210 0497
or mail info@doctor-property.co.th
Customer Reviews
Sold property a few weeks after listing. Imran at Dr Property was a pleasure to work with and went above an behond to ensure selling process went smoothly, which was challanging at times since both parties were outside of Thailand. Very impressed with the fairness and honestly displayed throughout, highly recommended.

Damien Seisun

Location of Bang Por – Koh Samui:
Bang Por is located in the north of Koh Samui. The neighboring cities are Nathon (in the west) and Mae Nam (in the east). It is only 16 kilometers to Koh Samui International Airport. If you want to go to Chaweng Beach then you have to cover a distance of 17 kilometers. The north of Koh Samui has so far been spared from mass tourism. Especially Bang Por is especially popular among the emigrants. Here you can fully enjoy the beautiful nature and secluded beaches. Koh Samui itself is the most popular island of Thailand and is located south of Bangkok in the Gulf of Thailand. All year round, Koh Samui has a tropical climate, which is another reason for the popularity of the island. Arrival is usually via Bangkok. This hub is one of the major airports worldwide. It only takes a short 45-minute flight to Koh Samui. You can also take the ferry to Bang Por – Koh Samui. You will need to travel to Suratthani and take the ferry from there. Thailand's most popular island is very well located and has always been spared severe storms and environmental disasters.
Beach of Bang Por – Koh Samui:
The approximately 3.5 kilometer beach of Bang Por attracts especially the guests who want to relax and escape the fuller beaches of Chaweng and Lamai. Here you can really enjoy the silence and nature of Koh Samui. The beach itself is fine sand and the sea runs flat. In some places you have to watch for stones in the water. From the hills, or even the beach of Bang Por, you have a wonderful view of Ko Pha Ngan and the Aqua Marine Park – Mu Ko Ang Thong National Park. In the evening you can watch how the fishermen of Bang Por go out with their small boats and go fishing. Then you see the small green position lights of the boats on the sea. The next day you can then order directly to the many restaurants located on the beach the freshly caught fish and enjoy.
Hotels and Apartments Bang Por – Koh Samui:
In Bang Por, the density of hotels is much more manageable than in the east of Koh Samui. Nevertheless, you will also find here very nice hotels and apartments. For example, the five-star Four Seasons Resort Koh Samui and The Passage Samui Villas & Resort should be mentioned here. You will also find here many private accommodations. Looking for hotel for your next holiday in Bang Por? Then you can book your next stay with Doctor Property. Just look here for our best offers!
Properties, Houses and Apartments in Bang Por – Koh Samui:
Here in the north of Koh Samui, beautiful new projects are being developed. However, the quantity is not comparable to that of Chaweng Noi, Lamai Beach, or Bophut. Nevertheless, the situation around Bang Por is quite interesting for investors and property seekers. Many emigrants have built their dream villa here, or even bought an existing house. In Bang Por, there is a more familial relationship among the inhabitants. Many emigrants from France, Germany, or England live permanently in Bang Por. Land and property prices are also lower here than in the east of Koh Samui. Many villas are very modern and have in most cases a wonderful sea view. Doctor Property also offers some of these villas and apartments. You can find Bang Bor's best offers here.
Investment in Bang Por – Koh Samui:
Buy Property in Thailand? Perhaps you are asking yourself this question? Then maybe Doctor Property can give you some information as well as offers. In general it is difficult to choose the right investment strategy. Rather spend the savings in equities, or invest in secure investments such as real estate? We can tell you that in most cases a property in Koh Samui has always paid off very well in the past. Many development companies of newly built villas even give investors a guaranteed return of at least 6%. There are also many providers offering their investors a buyback program. This includes a guaranteed purchase of your property after a certain term at your purchase price plus a staggered extra payment. During this time, you can use your property in Bang Por itself and also achieve good returns through rental income. For investors on Koh Samui also offers an ideal environment. Here you can rely on service providers who take over your entire care of your property. From the cleaning of your villa, the marketing on the largest international Internet sites such as booking.com, or airbnb.com, guest services, to billing. Everything can be provided by a service provider. Is there a better investment than sitting on your own terrace with a glass of wine and enjoying the fantastic view of the sea and earning good money with your property at the end of the year? Could Doctor Property convince you? If you have any questions, can we give you some calculation examples? Then contact us today. Doctor Property is happy to answer your questions.
Finding the Right Property in Koh Samui
The tropical climate, the crystal-clear water, the beautiful beaches, all of this can be found on the popular holiday island of Koh Samui. Are you planning to acquire a property on Koh Samui, or perhaps a beautiful plot with sea views? Are you looking for a good investment, would you like to build houses, villas, or apartments, and then rent them out successfully? We are the right contact for all your questions. Doctor Property is your professional partner for real estate on Koh Samui. We are always looking for new projects, new homes, new villas and new apartments for you. So that we can always introduce you the best offers. Only when you are satisfied with your new property, then we are satisfied too.
The Fantastic Location of Koh Samui
Koh Samui is the third largest island and is located in the southeast of Thailand. Only a short 1 hour flight is required to travel from Bangkok to Koh Samui. The Bangkok Airport is one of the largest and most frequented airports in the world. Every year more than 3 million tourists travel to Koh Samui. The popularity of the island and the whole country of Thailand is known worldwide. Koh Samui is becoming one of Asia's top destinations. Here you will find also all the big 5 star hotels and names as well as smaller elite residences. Architects design Beautiful villas with sea views and infinity pools. With many new projects you can still actively participate in the design of the villa, or house. Likewise, you often still have the choice of materials. We will try to integrate all your wishes in your property in Koh Samui. There are no limits.
Invest in Real Estate Abroad
This development can also be seen in the real estate market. There are built always new houses, villas and apartments. It is a pretty good investment to buy a property on Koh Samui, a house, a villa, or an apartment. Our international customers participate in this development and they enjoy our selection of real estate. Our team from Doctor Property will be happy to take care you in German, French, Mandarin, English or Thai language. Together with you we will visit the real estate on the whole Koh Samui. If you like, we will be happy to give you a recommendation with a possible purchase and the design of the purchase contracts.
Our Independence
Finding an independent real estate agency in this market is certainly an important first step for any prospective buyer. Each broker on Koh Samui receives a commission from the owner on a successful sale. Whether you have bought a house, a villa, or just a piece of land, this is the case. Our real estate agents at Doctor Property always work in the interest of the customer. We attach great importance to offering our clients the most suitable property for them. We pay attention not only to the quality of the property, but also to the legal certainty of the purchase. Doctor Property would like to establish a relationship of trust with you as a client and gain additional clients through your satisfaction. This goal is pursued by us daily in the sale of real estate in Koh Samui.
Investment in Koh Samui – Thailand
In today's times it is difficult to find the right investment strategy for your savings. Where is my money safe and brings good returns? Maybe Doctor Property can convince you to invest in real estate on Koh Samui – Thailand? The framework conditions for this are very good. This is supported by the annual growth rates of overnight stays on Koh Samui and the good price – performance ratio of the local real estate. An average occupancy rate of 70% and a guaranteed return of many development companies for new villas of more than 6% attract many investors to Thailand, especially here to Koh Samui. Become an investor and find the right property together with us!
Koh Samui Locations
Thailand
Properties