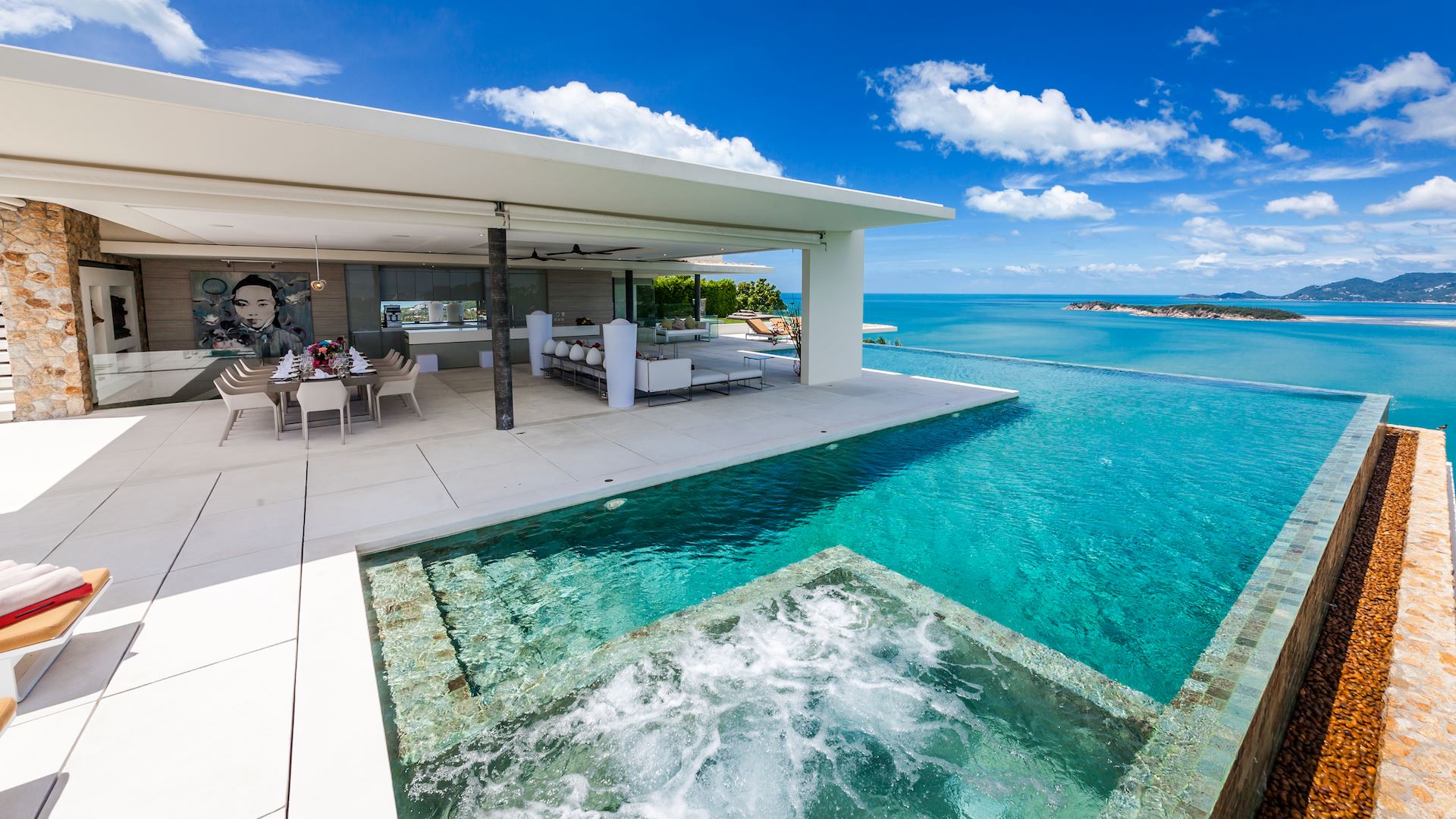 Contact
Doctor Property Team
Cherry Songkhasupha
Contact us by phone +66 6 1210 0497
or mail info@doctor-property.co.th
Customer Reviews
I was looking to invest in Samui and met 2 amazing guys that helped me and had so much patients and understanding of what I'm looking for. They are professionals and have great understanding of their clients. Their clients needs are top priority for them. I will definitely work only with them! Thank you you are the best!!!

Engelshtein Coral

May I give 6 stars to Doctor Property? And 7 Stars to the Agent "Cherry"? My husband and I have been looking for the Villa in Samui, and that was the start to know Cherry, our Agent. Cherry is really well-organized and professional agent. Every Properties we visited, Cherry could provide the information of the Villa which helped us to make decision easier and faster. Furthermore, she is very cooperative and be patient to our pickiness to select the Villas (lol). At the end of the trips, we haven't yet purchasing the villas from Cherry and Doctor Property. However, I get to know a new friend and surely if we have a new plan for new property. Cherry and Doctor Property will be one of our very first choice to contact. Bella & Tom

Rachchavin Sawatnirot

Thank you, Doctor Property for such a VIP treatment! Sebastian, Tammy and team were immediately attentive to our needs when we arrived on the island. Each time we arrived at their office, they had clearly done their homework and had answers to all our questions. They asked us a number of thoughtful questions and very quickly were able to narrow down our search to properties that we loved and were in our budget. They knew so much about Koh Samui and really helped us think through all aspects of buying and living on the island. They were tireless in their assistance and even picked us up numerous times from our hotel to take us around to properties and took us out to a beautiful lunch overlooking the island. If you are looking for an intelligent, savvy, genuine set of people who truly want to find the perfect house for you, I strongly suggest Doctor Property. Note: the other two main agencies on the island we had spoken to from the US and one of them totally blew us off when we arrived on the island as they had other larger clients there at the time. We were shocked that we would fly all the way there only to be turned away and ignored when we arrived. The other agency set us up with a personal friend who didn't even work for the agency. After this dismal experience with the two other agencies, we were so happy to find Doctor Property.

Michael Somoza

Location of Lamai Beach – Koh Samui:
Lamai Beach is one of Koh Samui's favorite places for both tourists and those living here. In the light hillsides of the Lamai, you will find many newly built villas and houses. From there you can enjoy a fantastic sea view and the surrounding mountains. Lamai Beach is located southeast of Koh Samui. Chaweng Beach is a 10-minute drive away. The airport is only 25 minutes away. If you would like to visit the north of Koh Samui, then you can use a small mountain road from Lamai Beach. This leads directly over the island and is very popular with tourists, as you can enjoy an amazing sea view from up there. Koh Samui is the third largest island of Thailand and is located in the Gulf of Thailand. The tropical climate is very popular with many visitors and also locals.
The Beach from Lamai – Koh Samui:
The 4 kilometer-long gorgeous sandy beach is the highlight of Lamai. Here it is always a little quieter and more familiar, as the neighboring beach in Chaweng. Nevertheless, all water sports activities take place here as well. At the southern end of Lamai Beach is Hin Yai and Hin Ta. These are rock formations reminiscent of sex organs of a woman and a man. Since then fits the usual translation of grandmother and grandfather's rock. Worth a visit alone because of the beautiful view of the beach of Lamai Beach.
Hotels and Apartments in Lamai Beach – Koh Samui:
Here in Lamai Beach, the room rates are a bit lower than in the neighboring town of Chaweng. Most hotels are also close to the beach. In the hills of Lamai Beach you will find the exclusive houses and villas for rent. Some apartments are also offered there. One of the popular 5 star hotels is the Ammatara Pura Pool Villa. The prices vary very much between the main and low season.
Properties, Villas and Houses in Lamai Beach – Koh Samui:
Here you will find new real estate projects in the mountains of Lamai Beach. There are new exclusive villas and houses with a fantastic sea view. Also here at Doctor Property we offer some interesting properties from Lamai Beach Koh Samui – Thailand. Most properties are built to modern European standards. The sea view is always respected and the exclusive villas and houses are characterized by their open and modern design. Lamai Beach is certainly worth considering for investors. Lamai Beach is currently very popular due to its location and the slightly cheaper property prices.
Entertainment / Dining / Shopping in Lamai Beach – Koh Samui:
Lamai Beach is fully adapted to the needs of tourists and residents. In Lamai Beach you will find a rich variety of good bars, local and international restaurants. In the center of Lamai Beach Koh Samui Thailand, Thaibox fights are regularly held on a public square. You have the opportunity to attend this event at any time. Lamai Beach is in the entertainment, its neighbor Chaweng in nothing. Every Sunday there is a market on Walking Street. This is very popular with tourists as well as locals.
Investment in Lamai Beach – Koh Samui:
Most investors are looking for a safe and good investment with high returns. But today's world, finding the right strategy is not easy. Maybe Doctor Property can show you a way to make a good investment in real estate on Koh Samui? Many investors from abroad are positively surprised by the quality and price – performance ratio here on Koh Samui. If you build a villa of good quality here you will get a lot more for your money than, for example, in most countries of Europe. As a bonus you will even get a fantastic sea view. In addition there is the really good capacity utilization rate for overnight stays on the island. The booking quota is over 70%. Many of our clients also use the management of service providers. Here you do not need to worry about anything anymore. It is sufficient to find the right property and the right service provider. The maintenance, cleaning, marketing and billing of your property will then be managed by the management. You can then use your villa for, for example, one month yourself and the remaining 11 months your villa goes into the rental. Would you like more information about calculations of newly built villas? Then contact us today!
Finding the Right Property in Koh Samui
The tropical climate, the crystal-clear water, the beautiful beaches, all of this can be found on the popular holiday island of Koh Samui. Are you planning to acquire a property on Koh Samui, or perhaps a beautiful plot with sea views? Are you looking for a good investment, would you like to build houses, villas, or apartments, and then rent them out successfully? We are the right contact for all your questions. Doctor Property is your professional partner for real estate on Koh Samui. We are always looking for new projects, new homes, new villas and new apartments for you. So that we can always introduce you the best offers. Only when you are satisfied with your new property, then we are satisfied too.
The Fantastic Location of Koh Samui
Koh Samui is the third largest island and is located in the southeast of Thailand. Only a short 1 hour flight is required to travel from Bangkok to Koh Samui. The Bangkok Airport is one of the largest and most frequented airports in the world. Every year more than 3 million tourists travel to Koh Samui. The popularity of the island and the whole country of Thailand is known worldwide. Koh Samui is becoming one of Asia's top destinations. Here you will find also all the big 5 star hotels and names as well as smaller elite residences. Architects design Beautiful villas with sea views and infinity pools. With many new projects you can still actively participate in the design of the villa, or house. Likewise, you often still have the choice of materials. We will try to integrate all your wishes in your property in Koh Samui. There are no limits.
Invest in Real Estate Abroad
This development can also be seen in the real estate market. There are built always new houses, villas and apartments. It is a pretty good investment to buy a property on Koh Samui, a house, a villa, or an apartment. Our international customers participate in this development and they enjoy our selection of real estate. Our team from Doctor Property will be happy to take care you in German, French, Mandarin, English or Thai language. Together with you we will visit the real estate on the whole Koh Samui. If you like, we will be happy to give you a recommendation with a possible purchase and the design of the purchase contracts.
Our Independence
Finding an independent real estate agency in this market is certainly an important first step for any prospective buyer. Each broker on Koh Samui receives a commission from the owner on a successful sale. Whether you have bought a house, a villa, or just a piece of land, this is the case. Our real estate agents at Doctor Property always work in the interest of the customer. We attach great importance to offering our clients the most suitable property for them. We pay attention not only to the quality of the property, but also to the legal certainty of the purchase. Doctor Property would like to establish a relationship of trust with you as a client and gain additional clients through your satisfaction. This goal is pursued by us daily in the sale of real estate in Koh Samui.
Investment in Koh Samui – Thailand
In today's times it is difficult to find the right investment strategy for your savings. Where is my money safe and brings good returns? Maybe Doctor Property can convince you to invest in real estate on Koh Samui – Thailand? The framework conditions for this are very good. This is supported by the annual growth rates of overnight stays on Koh Samui and the good price – performance ratio of the local real estate. An average occupancy rate of 70% and a guaranteed return of many development companies for new villas of more than 6% attract many investors to Thailand, especially here to Koh Samui. Become an investor and find the right property together with us!
Koh Samui Locations
Thailand
Properties