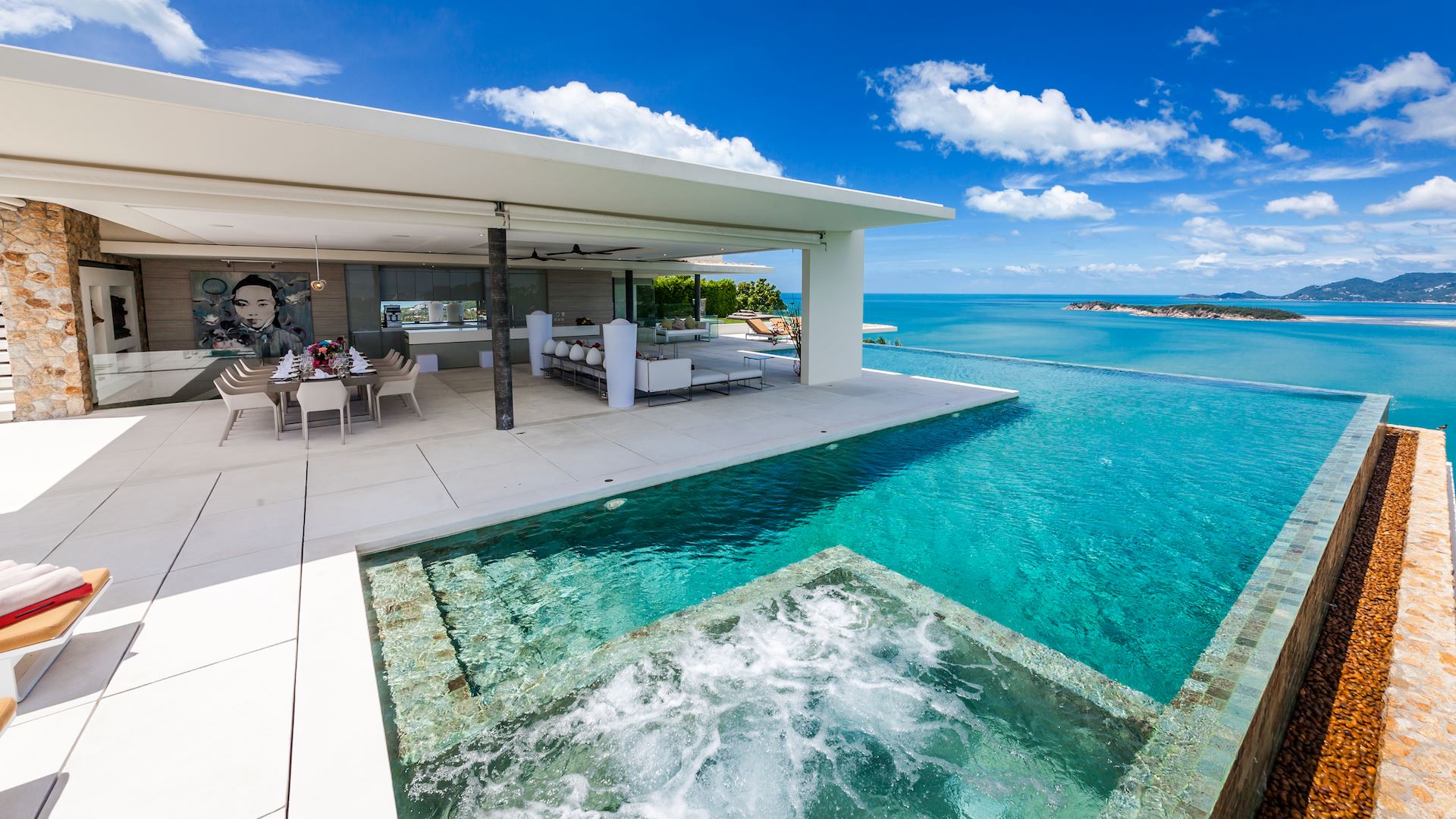 Contact
Doctor Property Team
Cherry Songkhasupha
Contact us by phone +66 6 1210 0497
or mail info@doctor-property.co.th
Customer Reviews
We just completed the acquisition of the land we dreamed about and for which we now plan to build our home. I would like to highlight the excellent support from Khun Cherry all along the property search and the finalization of the sale. She is very professional with a high sense of ethics, her communication in both Thai and English is excellent and she is a very kind person to work with. I would recommend her and Doctor-Property without any doubt as a great partner for property search.

Christian Galiana

Sebastian from Doctor-Property has been extremely responsive and understanding of all our requests. He is a true professional and has the patience of a saint (with us being fussy). He has true ethics/Morales and is not just there wanting a quick sale and commission he genuinely wants both parties to be happy. We highly recommend his services.

Mel Reilly

Location of Chaweng Beach – Koh Samui
Chaweng, or even Chaweng Beach is certainly the first place that comes to your mind when you think of Koh Samui. Many people think this is the capital of Koh Samui. That's not the case. Nathon in the northwest of the island is the administrative capital. However, Chaweng, or Chaweng Beach is Koh Samui's most popular destination. Every year, more tourists are drawn to the small town on the east coast of Koh Samui. The tropical island with the villas and houses is located in the Gulf of Thailand and is only about 35 kilometers to the mainland. There are many ways to reach the mainland by ferry. The easiest way, however, is the small but beautiful airport of Koh Samui. Starting here and landing almost every 10 minutes (high season) the planes from Bangkok and other locations. Many guests from Koh Samui are already excited about entering the airport. The enormous flowers and plant diversity of the airport is impressive. The open construction, with the small bamboo houses is typical of places with tropical climate. The easy to
reach location is also a deciding factor for investors and your decision to buy a new property, villa, house, or apartment in Koh Samui.
The beach of Chaweng – Koh Samui
The approximately 6-kilometer-wide gorgeous beach with its partially coconut palms equipped sections invites you to linger and relax. Here are all water sports fans to follow your hobby. The sandy beach in Chaweng is very wide and suitable for families with small children. You can use the beach all year round. However, it is also the weather and the currents to watch. Unfortunately, there have been fatal accidents due to underrated currents in the past. The real estate owners living here appreciate and like the beach of Chaweng Beach in Koh Samui very much.
Hotels and apartments in Chaweng – Koh Samui
You really have a very wide selection of cheap to expensive hotels and apartments. In low season you can certainly find accommodation from just over THB 600 per night, to the 5 star hotels with prices from THB 4,000. Some of these 5 star hotels are for example the Library, or the Centara Grand Beach Resort.
Real Estate, Villas and Houses in Chaweng – Koh Samui:
Here in Chaweng Beach primarily hotels, restaurants and shops are located. Private residential areas are in most cases more in the western areas of Chaweng. Here is just Chaweng Noi to mention. In the hills, the property owners have a wonderful view of Chaweng, the lake and the beach. In Chaweng Noi, many new projects are being implemented with new villas and houses. The particularly popular location, the sea view and the modern construction is very interesting for the investors. Doctor Property has some of these exclusive villas and houses on offer. Find your property on our website.
Entertainment / Dining / Shopping in Chaweng – Koh Samui:
In Chaweng Beach you will find an enormous selection of restaurants, but also small food stalls. From the favorite Italian, Japanese, to the very good local Thai restaurants you will find a huge offer. There are also no shortage of shopping opportunities in Chaweng Beach. Here we would like to mention the Central Festival in the heart of Chaweng. Here you have the opportunity in many small and large shops to do your shopping. There is also a cinema, restaurants and a supermarket in the Central Festival. Many owners of houses and villas on Koh Samui love the short distances. The nightlife is not too short in Chaweng. Very popular among tourists is the Ark Bar right on the beach. Every day the disc jockeys put on their music and a fire show is presented daily. In the immediate vicinity is the discotheque Green Mango and the Cha Cha Moon Club.
Investment in Chaweng Beach – Koh Samui
For a very long time the wisdom was "the concrete gold" is the safest form of investment. Certainly, this wisdom is something very general, but many people have in the past with this rule very well. Doctor Property can not tell you that buying a property in Koh Samui, Thailand is the best investment strategy.
But at least we can give you the framework that makes a possible decision easier. Thailand, more specifically Koh Samui is setting new visitor records each year for guests from around the world. There are certainly a variety of reasons for this, such as the tropical climate, the cheaper airline tickets, the extension of the low cost airlines and certainly the special hospitality of the Thai people. The average occupancy rate here in Koh Samui is over 70% throughout the year. The price – performance ratio for a new construction of a villa, or an existing property is generally much better than in the western industrialized countries. For you as a potential investor, there are a lot of service providers who will take care of all your work on site. Starting with the booking, picking up your guests, cleaning your villa, up to the entire management, you as an investor can resort to service providers. It is up to you which service you want to book. Another interesting point for investors is the guaranteed return on many property developers and development companies. There are certainly some differences from property to property, but it is always advertised with a 6% return every year and also guaranteed. All these factors are very promising and attract a lot of investors from abroad. Be a part of it, too. Contact us and we will gladly show you some case studies.
Finding the Right Property in Koh Samui
The tropical climate, the crystal-clear water, the beautiful beaches, all of this can be found on the popular holiday island of Koh Samui. Are you planning to acquire a property on Koh Samui, or perhaps a beautiful plot with sea views? Are you looking for a good investment, would you like to build houses, villas, or apartments, and then rent them out successfully? We are the right contact for all your questions. Doctor Property is your professional partner for real estate on Koh Samui. We are always looking for new projects, new homes, new villas and new apartments for you. So that we can always introduce you the best offers. Only when you are satisfied with your new property, then we are satisfied too.
The Fantastic Location of Koh Samui
Koh Samui is the third largest island and is located in the southeast of Thailand. Only a short 1 hour flight is required to travel from Bangkok to Koh Samui. The Bangkok Airport is one of the largest and most frequented airports in the world. Every year more than 3 million tourists travel to Koh Samui. The popularity of the island and the whole country of Thailand is known worldwide. Koh Samui is becoming one of Asia's top destinations. Here you will find also all the big 5 star hotels and names as well as smaller elite residences. Architects design Beautiful villas with sea views and infinity pools. With many new projects you can still actively participate in the design of the villa, or house. Likewise, you often still have the choice of materials. We will try to integrate all your wishes in your property in Koh Samui. There are no limits.
Invest in Real Estate Abroad
This development can also be seen in the real estate market. There are built always new houses, villas and apartments. It is a pretty good investment to buy a property on Koh Samui, a house, a villa, or an apartment. Our international customers participate in this development and they enjoy our selection of real estate. Our team from Doctor Property will be happy to take care you in German, French, Mandarin, English or Thai language. Together with you we will visit the real estate on the whole Koh Samui. If you like, we will be happy to give you a recommendation with a possible purchase and the design of the purchase contracts.
Our Independence
Finding an independent real estate agency in this market is certainly an important first step for any prospective buyer. Each broker on Koh Samui receives a commission from the owner on a successful sale. Whether you have bought a house, a villa, or just a piece of land, this is the case. Our real estate agents at Doctor Property always work in the interest of the customer. We attach great importance to offering our clients the most suitable property for them. We pay attention not only to the quality of the property, but also to the legal certainty of the purchase. Doctor Property would like to establish a relationship of trust with you as a client and gain additional clients through your satisfaction. This goal is pursued by us daily in the sale of real estate in Koh Samui.
Investment in Koh Samui – Thailand
In today's times it is difficult to find the right investment strategy for your savings. Where is my money safe and brings good returns? Maybe Doctor Property can convince you to invest in real estate on Koh Samui – Thailand? The framework conditions for this are very good. This is supported by the annual growth rates of overnight stays on Koh Samui and the good price – performance ratio of the local real estate. An average occupancy rate of 70% and a guaranteed return of many development companies for new villas of more than 6% attract many investors to Thailand, especially here to Koh Samui. Become an investor and find the right property together with us!
Koh Samui Locations
Thailand
Properties