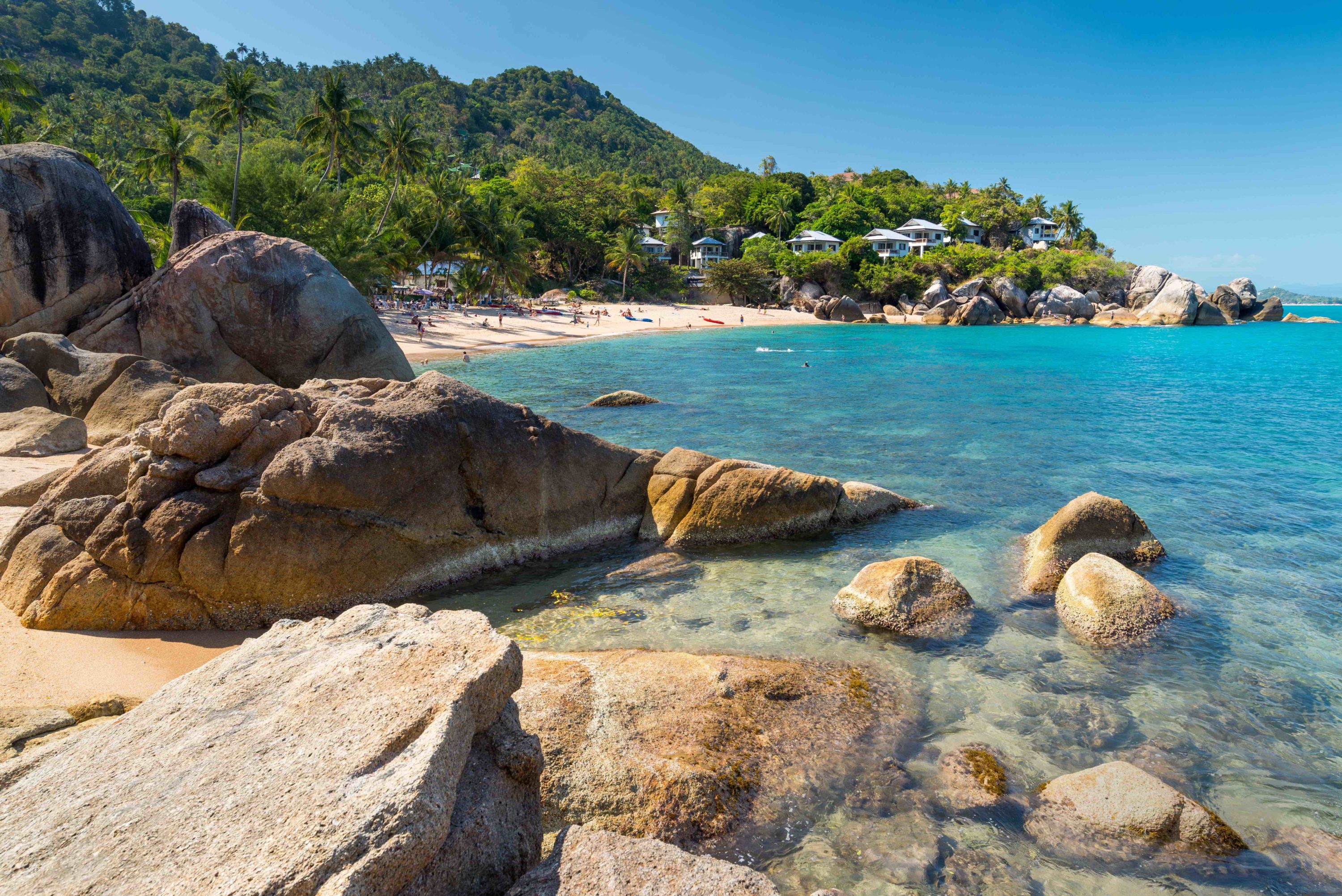 If the­re is hea­ven any­whe­re on Earth, Ko Samui is the clo­sest match to a para­di­se on earth. Cove­r­ed exten­si­ve­ly by thick, den­se forested vege­ta­ti­on from all sides, this deso­la­te and seclu­ded island almost appears to be crad­led and nur­tu­red by Natu­re its­elf as it were its choicest picks. Ko Samui is one of the many island loca­ti­ons of Thai­land which are now see­ing increa­sed atten­ti­on from for­eig­ners and real esta­te magna­tes as a prime desti­na­ti­on for invest­ment in lavish resi­den­ti­al pro­jec­ts, as a means of diver­ting the con­ges­ti­on away from Bangkok, Pat­ta­ya & Phu­ket. And of the prime attri­bu­tes of this hid­den loca­ti­on which makes it extre­me­ly lucra­ti­ve for pro­per­ty inves­tors and deve­lo­pers ali­ke, is the avai­la­bi­li­ty of exclu­si­ve sea front pro­per­ties in the lap of lush gree­n­e­ry and sur­roun­ded by natu­ral cor­don of moun­tains, ther­e­by pro­du­cing a rea­dy­m­a­de can­vas for pic­tures­que views from every home. When the West is steadi­ly moving towards beco­m­ing a con­cre­te jung­le devo­id of any natu­ral cano­py, and pros­pe­rous Thai loca­ti­ons such as Bangkok and Phu­ket fol­lo­wing suit fast, fin­ding a geta­way retre­at away from the con­ges­ti­on traf­fic and crowds is beco­m­ing increa­singly dif­fi­cult, even for a pri­ce. Ko Samui lies off the Gulf of Thai­land on the east coast and is a popu­lar tou­rist desti­na­ti­on for its attrac­tive loca­ti­ons, unadul­te­ra­ted natu­ral vege­ta­ti­ve cover and best of all eye wate­ring beaches with palm trees lined along the peri­phe­ry making for aes­the­tic viewing in the back­drop of the crys­tal clear tur­quoi­se blue oce­an water and a plea­s­ant­ly invi­t­ing wea­ther. The cli­ma­te needs a com­mend­a­ble men­ti­on for its abi­li­ty to remain ine­vi­ta­b­ly con­du­ci­ve like an ever con­spi­ring accom­pli­ce, for initia­ting cele­bra­ti­ons or rela­xing right from the break of dawn. With just one month of hea­vy rain annu­al­ly, Ko Samui pro­mi­ses ele­ven mon­ths of unen­ding fun and fro­lic for patrons and visi­tors ali­ke making it the new cho­sen desti­na­ti­on for tou­rists and expats.
If this fuels your inte­rest and curio­si­ty to invest in a pro­per­ty in Ko Samui the best way to approach the desi­re is through a real esta­te pro­per­ty agen­cy based in Ko Samui. A pro­fes­sio­nal real esta­te agen­cy alrea­dy has all the necessa­ry preli­mi­na­ry for­ma­li­ties arran­ged and pre­pa­red in the form of a tem­pla­te to faci­li­ta­te the bid on an expe­di­ted time frame. With estab­lished con­nec­ts in the government and in the necessa­ry diplo­ma­tic quar­ters, a pro­fes­sio­nal real esta­te agen­cy is cri­ti­cal to eli­mi­na­ting any incu­ba­ti­on peri­od befo­re a for­eign inves­tor can claim ownership over any pro­per­ty in Ko Samui.
Our strong pre­sence in the Thai real esta­te sec­tor enab­led by our diplo­ma­tic ties con­nec­ts the government rela­ti­ons sui­ta­b­ly to leverage our pre­sence as a nota­ble and reli­able play­er in the real esta­te mar­ket. This is addi­tio­nal­ly sup­ple­men­ted by our strong and active digi­tal pre­sence which makes it easier to veri­fy our aut­ho­ri­ty and estab­lish rela­ti­ons­hips to initia­te the paper­work for the pro­per­ty invest­ment much ahead of the investor's phy­si­cal arri­val in Ko Samui, ther­e­by maxi­mi­zing returns of the invest­ment from every ang­le.